October 4th, 2018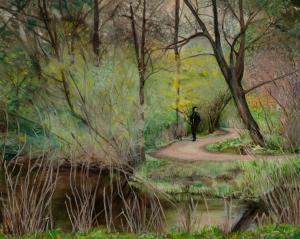 This painting is located on this site, however it is down near the end to find. However, it is quite an honor to have my painting on this site and I am grateful and know that without art I wouldn't be here. It is what I am made of and it has gotten me through many difficult times in my life. This pathway gives me hope and helps me contemplate what my next steps will be. Also, the quote I used under is goes as follows:
When you feel peaceful and successful, you want to extend and export that peace and love. The violence, hatred, prejudice, and judgment in our world suggests that we have miles to go to reach a world of inner and outer peace. Dr. Wayne W. Dyer, |

I also want to comment on a special event coming up for a children's home here in Marietta, I will be donating a couple of prints beautifully framed for their event to raise money for children that have been put into homes, all proceeds go for the kids and their benefit. I will be posting more info as it gets closer to the event.